Services & Prices
Books

It's fun and easy. Initial consultations are always free. This is a "getting to know you" time where we share information and sort out what you want to accomplish.

You simply tell your story, then it will be transcribed, lightly edited, and shaped into book form. You will have full control over what goes in and what stays out. Photos, letters, and other scanned objects can be included. Ebooks are also available, an easy way to share your story.

Project costs are based on an hourly fee and expenses, and vary from several hundred to several thousand dollars, depending on the scope and type of the project. Your book can be a full-length life story or family history, a small memoir focusing on a time and place in your life, or a special occasion book involving a family reunion, birthday graduation, or a tribute. I have several packages available, and can easily provide you with an estimate.

Book costs are billed separately and vary according to what you choose. For example, an heirloom-quality full color 8 x 10 hardcover book of 100 pages could be $55 or more, compared to $10 or less for an inexpensive black and white paperback. Books come in several different sizes and options.

Ebooks

Pat is now able to offer ebooks that will work on any reader (iPad, KindleFire, Nook, etc). Ebooks can be a great addition to your physical book and can actually save you money if you have many people to share your project with. It is also a great stand-alone item if you prefer it to a physical book. Her clients have used them to share projects like family reunions. Contact Pat for a free ebook she created to share with her family and friends.

Preserving and Scanning Photos, Slides, and Other Memorabilia

Save your precious items and share them with family and friends before they are lost in time or deteriorate. Photos, slides, and other items can be scanned and preserved digitally. They can be organized into a photo album or printed in a book with titles or captions added. Weddings, anniversaries, travel and vacations, retirement parties, recipes and more can then be shared with family and friends, wither through a printed book or an ebook.

Old or new images full of scratches, blotches, faded color, or other issues can be photo-edited with Photoshop or Lightroom advanced photography software. Photos, old cards, letters, graduation certificates - anything that can be scanned - can be shared through personalized USB flash drives or DVDs, a wonderful gift. Items to be scanned can be picked up locally or shipped to us. An hourly charge applies and estimates are available. Cost depends on many factors, including size, fragility, and time required to repair damaged images. Items too large to fit on a scanner can be photographed.

Other Services

​If you have already written your book, Pat is also happy to provide services such as interior layout design including front matter and back matter (title page, table of contents, index, etc.), cover design, proofreading, and printing. In other words, she can do anything and everything else you may need to complete it.


---
Gift Certificates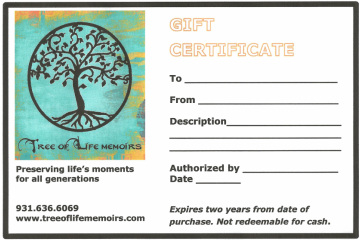 Use a gift certificate to get the ball rolling. It can be used to fund anything from an entire memoir to a special occasion project such as a captioned photo book. Think Christmas, Mother's Day, Father's Day, anniversaries, birthdays, and more.

Get together with friends and relatives and chip in for this gift. You could also hint that you would like one yourself as a birthday or Christmas gift! Call Pat for more ideas.




---